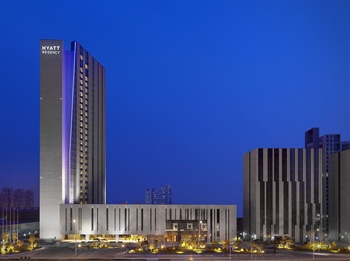 The Hyatt Regency Tianjin East is an ideal spot for travelers wanting to discover the city. Visitors to Tianjin will find that the Hyatt Regency Tianjin East is a fantastic accommodation choice.
The hotel is only 7km from Tianjin Railway Station and 12km from Binhai International Airport, giving guests a number of convenient transportation options. The closest major public transportation, Jingjianglu Metro Station, is only 400m away. Seeing Tianjin's sights from this hotel is easy with HeDongJin Jie, Qiaoyuan Park and Ruyi Yuan all close by.
In their spare time, guests can explore the hotel's surroundings. For guests' convenience, airport pickup can be arranged. This Tianjin hotel provides parking on site.
Germaphobes can rest easy - the level of cleanliness is highly rated at this hotel. For guests traveling on business, this hotel is consistently one of the most popular choices.